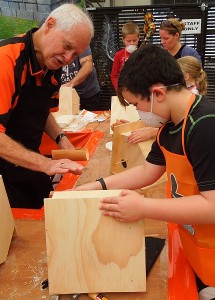 Wow that was fun !
Today we went to the "Easy As For Kids Free Workshop" at the Henderson Mitre10 Mega.
Josh had been looking forward to this for quite a long time. We heard about DIY for kids months ago and when we asked they said they didn't do it anymore – bummer.
Then we saw they were doing it again and we asked when it was going to be on and waited and waited. Then on the 1st of September registration was finally available online. By the time I got home all 20 slots had gone – unbelievable.
A call to the helpful Lome we managed to get in workshop.