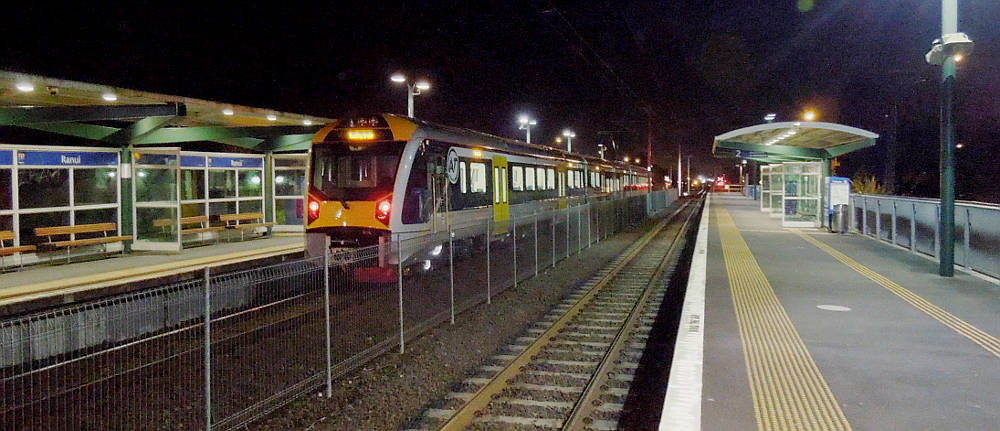 Not sure if it's official but the Auckland Transport electric trains are currently testing on the western line as you can see in the above photo. From reports it sounds like they may have started test from around September we only took these pictures at the end of November 2014.
We live pretty close to the Ranui station and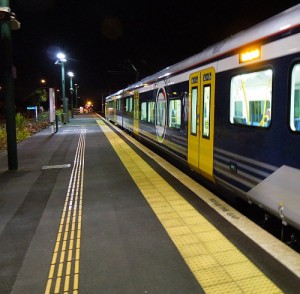 have often wondered when they will actually start testing as we understand the infrastructure is in place. A couple of nights ago I was up around 1:15am and heard a noise that sounded like electric trains and sure enough looking out the window I could see it at the station.
As it was heading to Swanson I figured I had about 10 minutes to go over before it was heading back so got dressed and headed over.
It would appear from what I can gather that they run around 12:00am to 3:00am in the mornings at least at our end. It rather seems like just one train because the next night when I timed it I saw it just after 12:00am and then at 1:30 which would give around 45 minutes each way which sounds about right.
Quiet
Being close to the station we find the diesels to be very noisy when moving off in particular so we were very interested to see how quiet the trains are.
I am happy to report they are very quiet and even on a quiet evening still very quiet. I think the nosiest thing we are now worried about is the horn – sometimes when the electrics leave Britomart the horn is extremely noisy, I do hope  it won't be that bad in the suburbs.
We can't wait till they start full-time in 2015 !