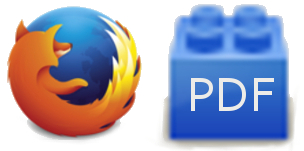 Have you noticed recently that when you look at PDFs in Firefox the plugin doesn't look quite the way you are used to, it's more gray and doesn't have any of that typical Adobe Acrobat look and feel to it. In particular if you move to the bottom of the window you don't see the popup Acrobat toolbar:

It's not your imagination the Firefox team, who actually do an absolute top-notch job have quietly changed the plugin that handles PDFs. This is the new toolbar that you are now seeing when viewing PDFs:

In notes for the release of Firefox 19  "First offered to release channel users on February 19, 2013" it simply shows a "Built-in PDF viewer" at the top of the notes:

On the Firefox page about using the plugin they say:
Firefox now includes a built-in PDF viewer that allows you to view almost all PDF files found on the web without a plugin. The built-in PDF viewer is enabled by default.
Unfortunately it doesn't work as well as the Adobe plugin and for me at least it doesn't seem to handle PDF data in the form of *.fdf and *.xfdf files. What seems to annoy people the most is the fact that this almost core feature, was changed with no real publicity.
Reverting to Acrobat to read PDF files
The following are the steps that work for me at the moment – it's only my guide.
| | |
| --- | --- |
| 1. | Got to Firefox "Tools | Options" and then select "Applications". |
| 2. | In the list of applications ensure that "Use Adobe Acrobat (in Firefox)" is selected. Most likely it will already be selectedDon't forget to scroll down the list and change "Portable Document Format (PDF)" to also be "Use Adobe Acrobat (in Firefox )Click "OK" and close the dialog |
| 3. | It's quite possible the first step may do the trick for you. If it doesn't Then try restarting Firefox. |
| 4. | Still not working, go to the page "about:config". If you haven't been to this page before it might be a bit strange – just type "about:config" where you normally put the web sites URL:You will receive a warning, click "I'll be careful, I promise!" |
| 5. | Scroll down the list of options until you see "pdfjs.disabled". Double click on this line until it says "true" – as in YES disable the Firefox PDF viewer.You don't need to click on "Save" to make this setting effective, just close the tab. |
| 6. | Still not working, restart Firefox again. |
| 7. | Almost at the end if it is still not working try re-installing Adobe Acrobat, which unfortunately will also require you to restart Firefox |
Lets hope this has done the trick for you.