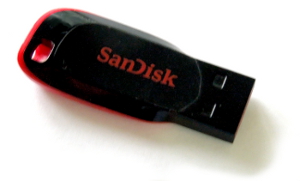 There are many sites that describe how to do this, but some techniques just didn't work for me and many required you to do it from Linux which also doesn't work for me. This is what worked for me on Windows 10.
1.
Insert you key into your Windows PC
2.
Though this may not be absolutely necessary I find it a good idea to format the USB key by right clicking in Windows Explorer and selecting format:
3.
Download the ISO image for Deblian live from the Debian website:

https://www.debian.org/CD/live/

Look for the link "i386".

In our case the iso file was: debian-live-8.5.0-i386-cinnamon-desktop.iso

4.
Download Win32 Disk Imager tool from https://sourceforge.net/projects/win32diskimager/ in our case this was "Win32DiskImager-0.9.5-install.exe". Then run it.
5.
Select the ISO image you downloaded and also ensure you select your USB key as the "Device" – don't want to overwrite the wrong thing:

6.
Click Write to create the bootable USB key.
8.
In Windows safely eject the key.